Skilled Artists Behind Our
Stellar Ice Sculptures
located in the North Andover-Lawrence area of Massachusetts, was founded by Donald Chapelle whose 40-year affection for carving has elevated the Boston ice carving scene. Donald's professional ice carving began at age 18 including a seven-year post at Brookline Ice and Coal while executive chef at the Museum of Fine Arts in Boston, later he sculpted ice at the Ice Box in Roslindale, Ma.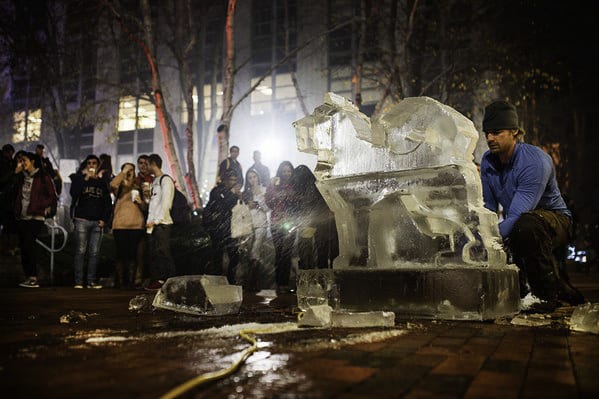 While employed for four years
as a Chef De Partite at the prestigious five star Hilton International in Geneva, Switzerland and Vienna, Austria, Donald Chapelle worked and trained with Japanese ice sculptors creating groundbreaking sculptures for thousands of functions and outdoor events.
Donald also has created many butter, chocolate, and salt dough sculptures for ACF Competitions and events while living and working in Europe and the Americas. This will be Donald's 32nd year sculpting ice for Boston's First Night Celebration.
Chef Chapelle is the driving force behind Brilliant Ice Sculpture and its President. Don has nearly 35 years of experience in culinary arts and has trained with some of the great chefs of Europe and America and executives of multiunit conglomerates.
Brilliant Ice Sculpture—a Green Company.
Just Brilliant - Let's Stay Cool
Boston Globe article and video 2012

2013 Boston Globe Article

Flicker Photos Donald Chapelle by Paul Robicheau